DNA heat exchangers constitute another step in the evolution of shell and tube exchangers. They provide a number of hydraulic and heat exchange improvements, preserving the features and benefits of the traditional design.
DNA reaches a significantly higher heat exchange coefficient compared to standard solutions. Distribution of the tubes in the shell allows for more efficient operation in high flow installation (e.g. exhaust, hot air, low pressure steam). Thanks to its unique tube side design, the DNA exchanger is compatible with high-viscosity media, retaining a high level of heat exchange.
The unique design of the DNA exchanger allowed for a lower and lighter device, made with significant saving of material, at the same time preserving high mechanical resistance characteristic for shell and tube exchangers.
Spiral tubes ensure turbulent rotational flow, which doubles the heat exchange coefficient.
Low pressure drops and lack of dead zones
Extensive heat exchange surface in compact heat exchangers
Ideal for operation with high-flow media
Made entirely of stainless steel, corrosion resistant
Possibility to make the exchanger from titanium resistant to aggressive substances
Design
Helicoidal Ø 10 mm tubes

ensuring a turbulent rotational flow, increasing the heat exchange

Stress-compensating tube package

Eliminating vibration thanks to a large amount of contact points along the tube pack without the need to use baffles or shell compensator

Expanded heat exchange area

with an equal distribution of flow and velocity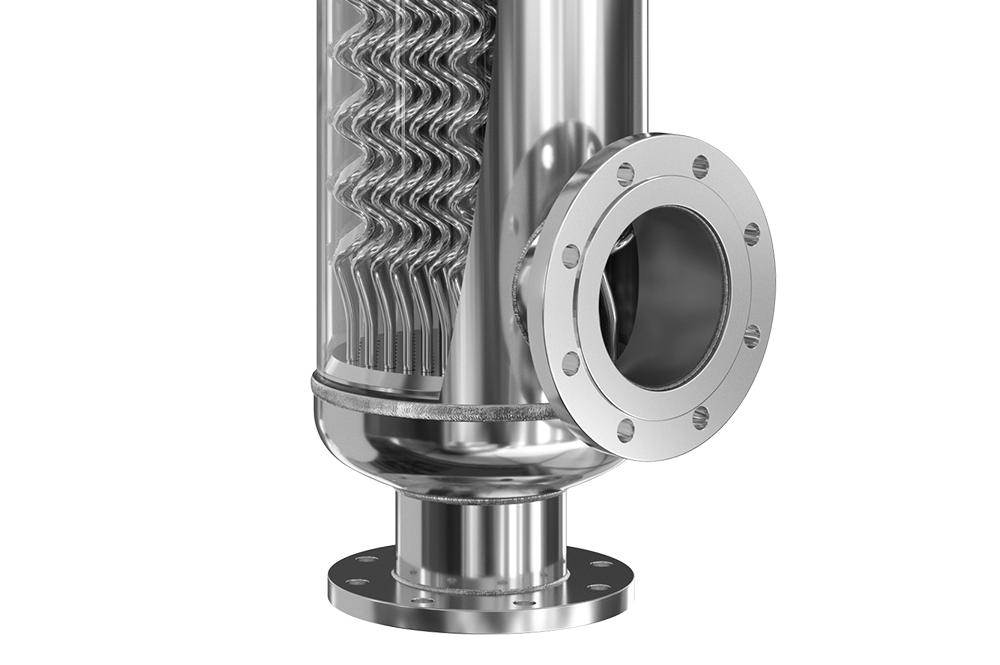 For over 30 years, HEXONIC has been improving its products, in order for you to be certain of the best choice available on the market.
Full range
a full range of exchangers sizes allows to choose the right size for the application
Quality guarantee
airtightness and high quality make of exchangers are confirmed during pressure testing and quality control
Technical support
we help selecting appropriate exchanger for particular application and technical requirements
Certificates and standards
exchangers manufactured in accordance with PED or ASME