Hexonic P-line heat exchangers meet the challenges offered by the pharmaceutical industry. They also meet its restrictive hygienic standards imposed by inspection authorities and the industry.
They were designed so to minimize the risk of contamination and ensure safe and sterile operation. Thanks to the double tubesheet, the exchanger prevents mixing the pharmaceutical product with the other medium even in the case of leakage and allows for immediate detection of potential malfunction.
Thanks to the tubes with low roughness and proper connector placement, the connector can be completely emptied using only the force of gravity. The polished inner tube surfaces hinder sediment accumulation, which is crucial for maintaining high hygienic standards in the pharmaceutical industry. The exchanger design also ensures very low pressure losses, while high quality materials ensure long-term and safe operation.
Designed to operate in pharmaceutical production, meets the highest hygienic standards
3-A certified
Manufactured in accordance with cGMP, PED, ASME
Double tube sheet constitutes additional protection for the pharmaceutical product before mixing it with the other medium
Surfaces that come into contact with pure medium have been polished to Ra ≤ 0.5 µm/19,7 µin roughness, which allows for precise exchanger cleaning
Made entirely of stainless steel
One, two or four pass design
Horizontal and vertical models available
Design
Certified gaskets

made of silicone and Viton and clean side Triclamp connections

Double tubesheet

reduces the risk of media mixing in case of potential leakage

Straight stainless tubes

with diameter 8 mm or 12.7 mm

Tubes are connected with tubesheets

using the pressure expansion method with pure pressurized water up to 6000 bar, which eliminates the risk od damaging their inner surface

Tubes are connected with the external tubesheet

the tubes, expanded using the pressure method, are welded to the external tubesheet using pure argon shield method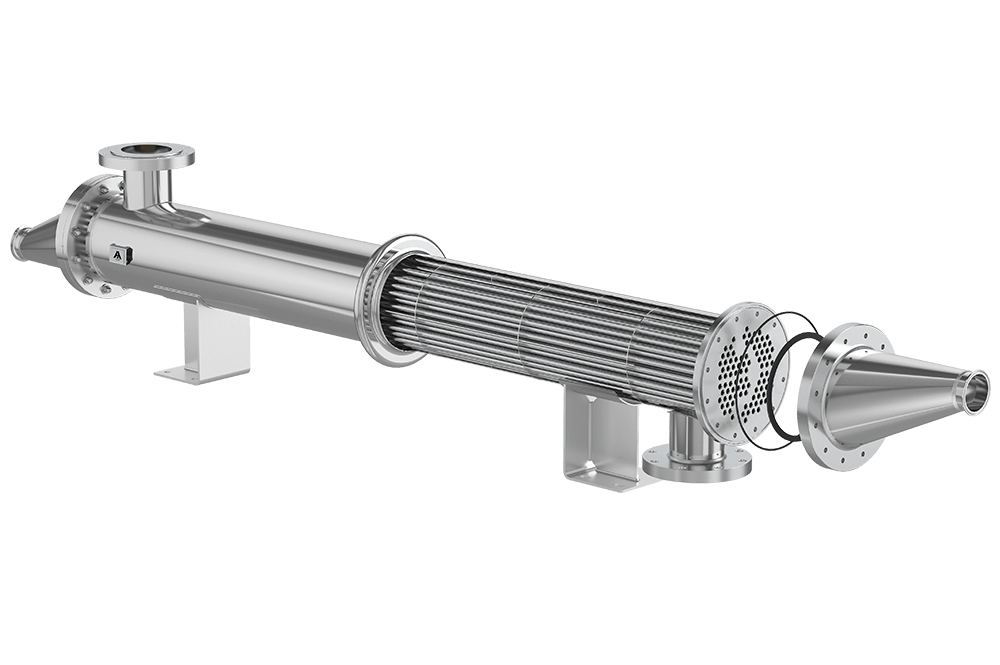 For over 30 years, HEXONIC has been improving its products, in order for you to be certain of the best choice available on the market.
Pharmaceutical exchanger
it was designed to minimize the contamination risk and ensure safe and sterile operation
Quality guarantee
airtightness and high quality make of exchangers are confirmed during pressure testing and quality control
Technical support
we help selecting appropriate exchanger for particular application and technical requirements
Certificates and standards
the exchangers are manufactured in accordance with PED, ASME, 3-A, cGMP (FDA)